[vc_row][vc_column][vc_column_text]
On the move to develop an innovative vision, plan, and collaborative effort to strengthen the arts in North County and the Greater San Diego region.
---
Our Next NCAN Event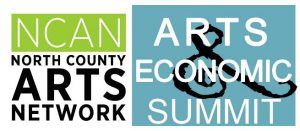 Arts and Economic Summit:
Vibrant Community, Booming Economy
Tuesday Oct 17, 2017 from 7 AM to 10 AM
California Center for the Arts, Escondido
Salon One and Two, Conference Center,
340 N Escondido Blvd, Escondido, CA 92025
The Keynote Speaker is Randy Cohen, Vice President, Americans for the Arts and he will be presenting:
Arts and Economic Prosperity Report 5:
CREATING JOBS, GENERATING COMMERCE, DRIVING TOURISM
Panel will be moderated by John Eger, the Van Deerlin Endowed Chair of Communications and Public Policy,  Inaugural Zahn Professor of Creativity and Innovation, and Director of the Creative Economy Initiative at the SDSU School of Journalism and Media Studies in the College of Professional Studies and Fine Arts. Joining the keynoteote speaker, Randy Cohen, will be David Malmuth, Partner, I.D.E.A. Partners,Susan Bruinzeel, Senior Director of Planning and Research for the San Diego Tourism Authority and  Peter Ronchetti, General Manager, Legoland
Our summit mission is to connect the arts and business communities for mutually beneficial interactions. Our goals include demonstrating the value of the arts in enhancing economic growth through increased tourism and community branding, building a stronger more competent workforce and supplying the creativity needed for future generations of prosperity. This summit will address the why, how and who for corporate, civic and business collaborations with the arts. You need the arts and the arts need you.
Partnership with Mike Cully, executive director,  North County Economic Development Council:
"As we strive to make the San Diego North County region the premier place to live, work and play – we need to focus on the significant impact the arts industry has on the quality of life here. There are thousands of residents in our region with a wealth of talent and a powerful desire to promote and build this industry, and the San Diego North County Economic Development Council strongly supports this effort. Art enhances life and drives economic growth. It's a very tangible element in our region and one that often makes the difference when working to attract business. It is for these reasons that we support NCAN's efforts to highlight this industry and shine a spotlight on its contributions to North County."
Arts and Economic Summit press release final full
---
Join Rancho Santa Fe Foundation donors and friends for a conversation about the arts in our community – current climate of the arts, challenges the panelists are facing at their organizations, and trends they see in the future. Building a Creative Community features Panelists: Barry Edelstein – Artistic Director, The Old Globe, Maria Mingalone – Executive Director, Oceanside Museum of Art, Kristin Lancino – President & Artistic Director, La Jolla Music Society, Mark Holmlund – RSF Foundation Board Chairman, Moderator on Tue, October 3, 2017 from 5:30 PM – 7:30 PM (Rancho Santa Fe Foundation – Community Room, 162 S Rancho Santa Fe Suite B-40, Encinitas,92024) More info and RSVP: Vision Now
_____________________________________________________________________
Past NCAN Events 2017

presents
Flash Forward: North County Arts Network 's roundup of future cultural events, trends, predictions, visions and directions for 2018 and beyond.

Wednesday, July 12, 2017 from 9 am to 11 am

Oceanside Museum of Art
704 Pier View Way
Oceanside CA 92054 
This is one of our annual information meetings to encouraging forward planning, listings on NCAN, general promotion of all events, and new intersections and collaborations. There will be a selection of speakers and opportunities for networking as well as updates on the Arts And Economic Summit and the new NCAN website.  Panelist include
 Visual Arts: Kerri Fox, Vice President, Marketing,  New Children's Museum, President of the SD County Museum Council
Theater: Chris Williams, Associate Artistic Director, North Coast Rep
Dance: Emily Miller, Director, Performing Arts Workshop
Music: Naimeh Tahna, President, Encinitas Friends of the Arts
Spoken Word: Danny Salzhandler, 101 Artist Colony/Full Moon Poets[/vc_column_text][/vc_column][/vc_row]